We are a non-profit community service organization located in North Texas that is dedicated to providing a second chance for as many un-adoptable cats as possible.
We focus on placing feral cats in safe locations such as barns, backyards, warehouses, and other areas that may need organic critter control.
See the Interview with the Crazy Cat Ladies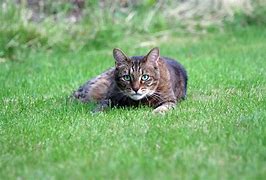 Barn Cats are not just for barns!
Cats adopted through our program can also be integrated into outdoor residential areas as "backyard buddies" that have access to food and shelter.  We also place our cats in warehouses, stables, and other suitable environments.
What are the Benefits of Barn Cats?
Barn cats are a low-maintenance way to keep rodents and other pests away.  They also keep other cats off your property and provide hours of enjoyment and comfort by just being around and you knowing that you have saved the lives of these beautiful animals.
Additional barn homes are needed!
Please tell your neighbors, family, friends, and co-workers who have rodent problems about us.